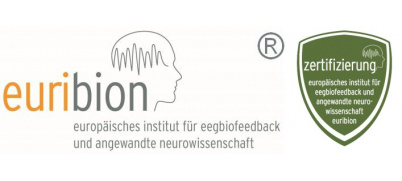 Professional Neurofeedback Training Courses and Certification
15 YEARS OF HIGH STANDARD NEUROFEEDBACK EDUCATION
"euribion - european institute for eegbiofeedback and applied neurosience", formerly eegtrain neuroclinic is one of the first providers of professional certified neurofeedback courses in Europe. Since 2001 we have educated and certified multiple cohorts of successful neurofeedback students who have since gone on to develop their own neurofeedback practices, or have applied the acquired knowledge in various clinical and university settings.
What makes our curriculum unique?
We put a strong emphasis on the neurobiological foundations of eeg and neurofeedback training, as we believe that such knowledge equips our graduates best to provide most effective training to their clients and to achieve training success in fewest possible sessions.

Our curriculum and practical training do not revolve around certain type of equipment. We are aware that the choice of equipment is often a very personal one, and we are prepared to adapt our practical/technical training to meet the needs of practitioners using a wide range of training platforms. Regardless of your neurofeedback platform, we can teach you how to make the best use of it to help your clients.

NEW! Since January 2015, we offer, along with our 

Core Certification (Z-NFB), 

 the 

Clinical Certification "qEEG/Z-Score-Training/LORETA - qZL

". The curriculum for this clinical certification reflects the the recent advances of neuroscience and focuses on linking the patients' symptoms to the patient's brain. We look at well-established neurofeedback paradigms, as well as at modern, neural-network based training strategies, and we draw paralels from the traditional surface training to the 3-D projections (LORETA)  
euribion and egtrain-neuroclinic distanziert sich von Titeln, die  eine graduelle Bezeichnung entsprechend der "Examens-Resultate" ausdrücken. euribion  spricht bei bestandener Prüfung den Titel aus. Die Prüfung kann beliebig oft wiederholt werden. 
Es sind 2 Sparten ("tracks") der Zertifizierung euribion vorgesehen: clinical und peak performance. Die Weiterbildung gestaltet sich "modular":  je nach beruflichen Grundvoraussetzungen bzw. bisherigen qualifizierten Weiterbildungen der Angewandten Neurowissenschaft müssen unterschiedliche Module noch erworben werden bzw. aus den beruflichen Ausbildungen nachgewiesen werden. Die Zertifizierungen gelten für Neurofeedback-Therapeuten  (clinical) für akademische Heilkunde-Teilnehmer, Ärzte, Psychotherapeuten,"Therapeuten" im Grundberuf, bzw. Neurofeedback-Trainer oder Neurofeedback-Coach (peak performance -  pädagogische Berufe, Personal-Trainer u.a.).
Nähere Informationen bitte unter info@euribion.de erfragen.
To receive more information about our courses, or to sign up for our upcoming training courses, please click  hier.