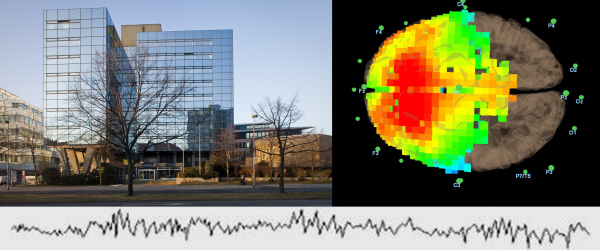 BRAINAVATAR Anwender/ User Workshop
Basis/Basics Neurofeedback Training - BrainAVATAR Software, 2016
English version see below. 
Datum: nächster Termin in 2016 wird bekanntgegeben
Ort: Hannover
Weiterbildungskursus, 24 bzw. 32 FoBi (je 45 Min.)
                     bei der Psychotherapeutenkammer Niedersachsen akkreditiert
                     gültig für den Nachweis von FoBi für Ärzte und Psychotherapeuten
                     anerkannt bei BCIA z.B. für Rezertifizierung, 18 bzw. 24 Std.
                     gültig für euribion Basiszertifizierung "Z-NFB", 24 bzw. 32 Einheiten
Dozenten: Tor Ghai, euribion, Stockholm/Schweden
                  Doerte Klein, euribion, Hannover
                  Nadia Hristova, euribion, Reading/England
Ziel:
Kürzliche Fortentwicklungen in der AVATAR Software haben auch die Komplexität  der Bedieneroberfläche betont, sodass trotz Anreicherung komplexer klinischer Nutzbarkeit viele Neurofeedback-Anwender es auch schwierig finden mögen, mit den multiplen verfügbaren Optionen vertraut zu werden.
Das Ziel dieses Workshops ist es, den Discovery- und Atlantis-Anwendern die Interaktion mit der AVATAR-Software zu erleichtern, vor allem darin,  Verständnis für  die Struktur und auch Vertrauen und Zuversicht in die Bedienung der Software im allgemeinen wie auch im besonderen in die Bedienung von Event Wizard-Protokollen und -Einstellungen zu erlangen.
Dieser Anwender-Workshop hat einen deutlichen praktischen Fokus und daher werden zahlreiche praktische Aufgaben und praktisches Training das "Hertz" des Kurses bilden.
Inhalte:
Anpassungen die Lokalisation, Frequenzbänder, Z-Werte und Schwellenwerte, den Wechsel zwischen AutoThresholding und manuelles Thresholding betreffen, weiter auch das Herstellen von Protokollen für kombiniertes Amplituden- und Z-Wert-Training, für sLORETA-Training mit Amplituden und mit Z-Werten via BrainDx. Vermitteln von tieferem Verständnis sowie effizientem Anwenden des Event Wizard.
euribion Team:                                                                                                                                                                                                           
Tor Ghai, Software-Entwickler und Programmierer und seit über 5 Jahren auf dem Gebiet Neurofeedback beschäftigt, wird sein überaus profundes Wissen der technischen Aspekte der AVATAR Software zur Verfügung stellen. Er wird die Teilnehmer durch eine Serie praktischer Aufgaben führen, sie in die Lage versetzen, den Event Wizard zu verstehen und anzuwenden sowie vorab existierende Protokolle anzupassen und neue Protokolle zu kreieren, um individuelle Patien-/Klienten-Bedürfnisse anzusprechen. Unter den Teilnehmern von euribion ist Tor Ghai bekannt durch seine besondere Fähigkeit des "Herunterbrechens" komplexer Sachverhalte auf ein allgemeinverständliches "Schritt-für-Schritt" Level, das dennoch hochprofessionell verbleibt. Bei unserem AVATAR workshop haben die Teilnehmer die Möglichkeit, diese besondere Unterrichts-Methode aus Erster Hand zu erleben.
Dörte Klein und Nadia Hristova werden klinische Expertise und Wissen der Gehirn- Neurophysiologie einbringen,  und so den Teilnehmern beim Einbetten ihrer erworbenen technischen Fertigkeiten in einen sinnvollen klinischen Kontext des Neurofeedback-Trainings zu ermöglichen.
Nadia Hristova stellt ihren Ansatz "klinische Entscheidungen bzgl. der Wahl von ROI's  und Metrike" für das Training und Doerte Klein wird ihren besonderen adaptiven Trainings-Ansatz darstellen, der optimale klinische Ergebnisse zu erzielen versucht.
Zielgruppe: BrainAVATAR Anwender verschiedener Stufen der Erfahrung                          
                     Optionaler Tag preworkshop
Der optionale Tag wird für Teilnehmer angeboten, die sich mit der AVTAR Software vertraut machen, sowie ihr Software-Verständnis und ihre grundlegenden Anwender-Fertigkeiten aufbauen möchten.
Auch werden für Beginner die theoretischen Grundlagen des Neurofeedback, der Gehirn-Neurophysiologie, von EEG und Instrumentation sowie unterschiedlichen Trainingsansätzen und Behandlungplanung behandelt. Es werden Grundlagen in der Durchführung einer Neurofeedback Trainingssitzung einschließlich Elektrodenbefestigung, Protokollauswahl und Bewertung demonstriert.
Praktische Anwendungen Hauptkursus:
Hands-on training mit Protokoll-Einstellungen/-Design: Teilnehmer werden lernen, Protokolle zu benutzen und zu verändern - sie werden indivudielle oder Gruppen-Aufgaben erhalten, um diese jeweils zu lösen. Mitglieder des euribion Teams sind während dessen anwesend, um beste Lern-Resultate zu sichern durch Supervision, Assistenz und das Beantworten von Fragen
Hands-on training mit realem Anschließen von Elektroden: Teilnehmer werden einige wenige der vorbereiteten Protokolle anwenden, und dabei lernen, diese anzuwenden und "on the fly" zu verändern.
Aufgabenstellungen können unterschiedlichen Voraussetzungen der Teilnehmer angepaßt werden.                                                                                                                                                                                                             
Protokolle werden über Event Wizard Settings so eingestellt sein, dass sie mit den meisten Spielen funktionieren.
Es werden Dokumentationen verfügbar sein, die Schritt-für-Schritt grundlegende Anpassungen beschreiben.
Es werden Micro Tesla pulsed electromagnetic Stim und verschiedene Biofeedback-Module vorgestellt.
Wir freuen uns auf interessante und informative Tage!
| | | |
| --- | --- | --- |
| doerte klein | nadia hristova | tor ghai |
| ceo euribion, dozentin | dozentin | dozent / techn. assistent |
| nfb-therapeutin bcn | nfb-therapeutin/e euribion | nfb-trainer euribion |
english version: 
Date: Next date in 2016 to be announced
Location: Hanover
Course ongoing education, 24 resp. 32 CE's (45 Min. each)
accredited with Psychotherapeutic Chamber of Low Saxony
valid for approval of ongoing education for MD's and Psychotherapists
accepted with BCIA, for i.e. recertification, 18 resp. 24 hours
valid for euribion Basic-Certification "Z-NFB", 24 resp. 32 units
Instructors: Tor Ghai, euribion, Stockholm/Schweden
                   Doerte Klein, euribion, Hannover
                   Nadia Hristova, euribion, Reading/England
Goal:
Recent developments in the AVTAR Software have increased the complexity of its user interface, and many neurofeedback practitioners find the wide range of available options overwhelming. 
The goal of this workshop is to facilitate Discovery- and Atlantis-users' interaction with the AVATAR software, and to provide insight and confidence in the use of Event Wizard protocols and settings. Upon completion of this workshop, participants will be able to apply the acquired skills independently in their clinical or training practice.
This User Workshop has a strong practical focus and therefore multiple practical assignments and hands-on training will constitute its core.
Topics: Adjustments affecting localisation, frequency bands, Z-scores and thresholds, change between auto-thresholding and manual thresholding, creating mixed amplitude- and z-score protocols, sLORETA training with amplitudes and with z-scores via DX. Deeper understanding and efficient use of Event Wizard.
euribion Team:
Tor Ghai, software developer and programmer working in the field of neurofeedback for the past 5 years, will share his very thorough knowledge of the technical aspects of Avatar software, and will guide participants through a series of practical tasks for understanding and using Avatar Event Wizard, helping them to customise pre-existing protocols and create new protocols to address individual client needs. Tor is popular among the clients of euribion with his ability to explain complex software in a very simple, concise and yet highly professional manner, and during this Avatar workshop, participants will get the chance to experience his unique teaching methods first hand.
To support participants in embedding their freshly acquired technical skills into a meaningful neurofeedback training context, Doerte Klein and Nadia Hristova will offer their clinical expertise and knowledge of brain neurophysiology. Nadia will help with the clinical decision regarding the choice of ROIs and metrics for training, and Doerte Klein will present her distinctive adaptive training approach, which guarantees optimal clinical outcomes.
Target Group: Brain Avatar Users at various levels of experience with Discovery or with Atlantis amplifiers
For Beginners: optional pre-workshop training day:
The optional day is offered for users, who wish to familiarise themselves with the AVATAR Software and to build up their software understanding and basic user skills. In addition, beginners will learn about the theoretical basics of neurofeedback, brain neurophysiology, EEG + instrumentation, different training approaches and treatment planning. Furthermore, they will get the opportunity to conduct a neurofeedback training session, including hook up, protocol choice and evaluation.
Practical elements:
Hands-on training with protocol settings/-design: attendants will learn how to use and change protocols - they will receive individual or group assignments to solve independently. Members of euribion team will be available at all times to supervise, assist and answer questions, and to ensure best learning results.
?Hands-on training with hook up: participants will apply few of the prepared protocols, and learn and practise changing these protocols "on the fly".
?Assignments will be adapted to match participant's individual level of experience
Protocols will be set up over Event Wizard to work with most games.
Documentations will be available, describing basic adjustments, step by step.
Please bring your laptop and Discovery- and/or Atlantis-equipment for Hands-on Training. 
Finally, Micro Tesla pulsed electromagnetic stimulator and different Biofeedbackmodules will be introduced.
We are looking forward to interesting and informative days.
| | | |
| --- | --- | --- |
| doerte klein | nadia hristova | tor ghai |
| ceo euribion, dozentin | dozentin | dozent / techn. assistent |
| nfb-therapeutin bcn | nfb-therapeutin/e euribion | nfb-trainer euribion |