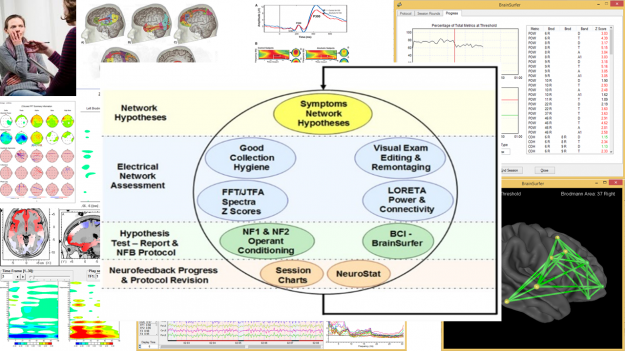 Neurofeedback and QEEG : An exploration into their uses for improving mental health.
20 - 21 January 2018: Broomhall Castle, near Stirling, Scotland, UK
This 2 day workshop is aimed both for those wishing an introduction to QEEG and neurofeedback and for those wishing to broaden their understanding of this evolving field of clinical neuroscience.
The workshop can be attended by professionals and individuals working or having an interest in mental health in any setting. Using live demonstration, the presenters will guide attendees through the qEEG assessment process, including EEG interpretation, qEEG analysis linking symptoms to brain activity and the design of neurofeedback training protocols. Practical uses of QEEG and neurofeedback in clinical and non-clinical settings will be discussed. 
Saturday 20th January 2018
08.45 - 09.15 Registration.
09.15 - 09.30 Welcome.
09.30 - 10.30  EEG, QEEG and neurofeedback basics.
10.30  - 11.15 Practical demonstration of EEG acquisition.
11.15  - 11.30 Break.
11.30 - 12.15 Editing the EEG, artefacts and spectral analysis: a practical demonstration.
12.15 - 13.15 Lunch.
13.15 -  14.00 Practical demonstration of production of QEEG maps using Neuroguide
                        and Loreta.
14.00 - 14.45 Presentation on linking symptoms to the QEEG.
14.45 - 15.15  Break.
15.15 - 16.15 Designing and implementing a neurofeedback protocol - practical
                       demonstration.
16.15 - 17.00  Bringing together psychotherapy and neurofeedback - a personal
                        journey.
17.00              Close.
Sunday 21st January 2018
09.30 - 10.15  Applications and uses in head injury.
10.15 - 11.00  Applications and uses in PTSD and Anxiety.
11.00 - 11.30  Break.
11.30 - 12.30  Applications and uses in ADHD.
12.30 - 13.30  Lunch.
13.30 - 14.15  QEEG-guided non-invasive brain stimulation for improving brain health
                        and function. Neurofield demonstration.
14.15 - 15.00  Uses in sport, developmental disorders, addiction, pain management and
                        other clinical conditions.
15.00 - 15.30  Break.
15.30 - 16.30  Summary and round table discussion.
16.30               Close.
Presenters:
Dr Jeremy Stirling, Consultant Psychiatrist, has particular interests in addiction psychiatry, post-traumatic stress disorder, traumatic brain injury and sports psychiatry. He has 20 years experience as an NHS consultant and is keen to explore how neurofeedback can improve mental health care.
Doerte Klein, Dipl.-Psychologist/Psychotherapist, licensed PP and KJP, BCN (BCIA Board Certified Neurotherapist), has a clinic for CBT for many decades, specialized for psychotrauma, emergency psychology, neurotherapy. Her main concern is the interwaving of psychotherapy and neurotherapy, and also quality management for neurotherapy. She developed the first german curriculum, founded the "eegtrain-training center" - since 2015 renamed to "euribion - Europäisches Institut für Biofeedback and Applied Neuroscience".
Nadia Hristova- cognitive neuroscientist and psychologist, working in the field of applied neuroscience since 2005. In her specialised clinic in Central London, Nadia combines neurofeedback training and qEEG guided non-invasive brain stimulation to improve various symptoms of brain dysregulation. Nadia also lectures for euribion and has a special onteres in regulation of affect and attention.
Prices (including lunch):
GBP 375 per delegate
GBP 295 per delegate early bird if paid before 30 November 2017
Reservation and payments (to be announced)
Accommodation can be booked directly via Broomhall Castle at GBP 85 per night single and GBP 125 double including dinner. Please quote to hotel that attending conference.
CPD certificates can be issued for 11 hours duration (subject to acceptance by your professional body)
Broomhall Castle is about 6 miles outside Stirling
41-65 Long Row, Menstrie, FK11 7EA
Enquiries: 
Dr Jeremy Stirling
3rd Floor
St George's Buildings
5 St Vincent Place
Glasgow, G1 2DH
Tel: 0141 275 4843